Elon Memes as Twitter Burns
Top engineering talent at Twitter appeared to head for the exits en masse Thursday night after CEO Elon Musk's deadline for employees to choose: stay and be "extremely hardcore," or leave with three months severance.
Musk locked the company's offices worldwide, reportedly to prevent sabotage, and reports of outages and glitches skyrocketed. Users who spent years building personas on Twitter posted their eulogies.
Musk, however, memed straight through it, posting jokes about the downfall of the company he just bought for $44 billion, interacting with random accounts, and claiming everything was great.
"Record numbers of users are logging in to see if Twitter is dead, ironically making it more alive than ever," he tweeted in the middle of it all.
The newsletter Platformer was the first to report the sudden office closures and temporary suspension of all badge access, reporting that the step was taken over fears of sabotage from disgruntled staff members, thousands of whom have been fired or resigned in recent weeks.
"We're hearing this is because Elon Musk and his team are terrified employees are going to sabotage the company. Also, they're still trying to figure out which Twitter workers they need to cut access for," Zoe Schiffer, managing editor of Platformer tweeted.
The news of the office closures coincided with a dramatic spike in reports of issues Twitter users were having accessing the platform.
Down Detector, a website that collates reports of technical problems with websites and social media platforms, reported that users were having problems accessing Twitter via the website and the app. Other users reported problems with specific issues, such as direct messages.
A graph on the site shows a massive spike in issues being reported at 11 p.m. on Thursday night. While the reports trailed off in the early hours of Friday, by 8 a.m. ET on Friday morning the reports of issues with the platform were climbing again.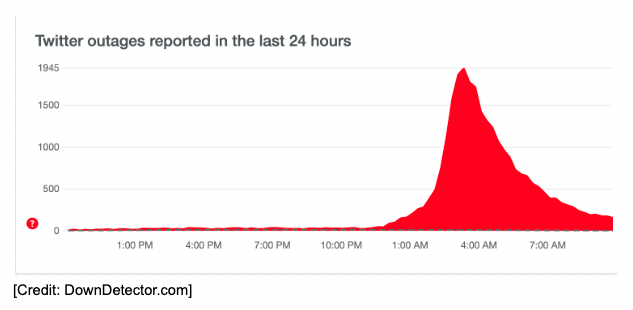 The hashtags #TwitterDown and #TwitterIsDead were trending on Twitter on Friday morning.
Despite this, Musk continued to post through it all, claiming that all the claims that Twitter was about to die were driving huge amounts of engagement on the site.
Responding to a tweet from TV star Piers Morgan calling on everyone criticizing Twitter to just delete their accounts, Musk tweeted: "Seriously."
He also posted several memes poking fun at the dire state of his platform.
Twitter has been in absolute chaos for pretty much the entire time Musk has been in charge. Since taking over in late October, the CEO has removed all of the top executives and board of directors, fired half of the company's full time staff, decimated the contract workers who help protect the platform from being filled with hate speech and disinformation, and has undermined trust in the platform's verification system by allowing anyone with $8 to receive a blue check mark.
Earlier this week Musk doubled down on his extreme approach to managing Twitter in an email sent to all remaining employees.
"Going forward, to build a breakthrough Twitter 2.0 and succeed in an increasingly competitive world, we will need to be extremely hardcore," Musk wrote in an email delivered to employees' inboxes at midnight PT. "This will mean working long hours at high intensity. Only exceptional performance will constitute a passing grade."
Musk gave employees until Thursday to say "yes" to the deal, but widespread reports suggest that far fewer employees agreed to Musk's conditions than he hoped, and Futurism reports the billionaire CEO is now scrambling to convince critical engineering talent to stay at the company.
Among those who have now left, according to Schiffer, are the designers leading Musk's Twitter Blue project, as well as the head web engineer.
The New York Times reported that by the 5 p.m. ET deadline on Thursday, hundreds of Twitter's remaining employees had decided to leave with the three-month severance package on offer. The report was confirmed by the Verge.
This was despite Musk backtracking on his hardline policy about demanding employees work from the office in virtually all situations. In an email obtained by Bloomberg, Musk wrote: "Regarding remote work, all that is required for approval is that your manager takes responsibility for ensuring that you are making an excellent contribution."
But for some employees, quitting is not an option.
"I personally know a Tweep whose spouse is undergoing cancer treatments," one Twitter employee wrote in Blind, an anonymous app used to discuss workplace issues. "There is no way this person can leave now. Folks have kids with medical issues, elderly parents to take care of, or haven't interviewed in years, or are purchasing a house, or are on an H1B & other restrictive visas, or are tight on money because they are helping overseas relatives, or are just plain scared of the way the market looks at the moment."
#DmtDaily
News
via https://www.DMT.NEWS
David Gilbert, Khareem Sudlow