This Couple Survived the Unite the Right Car Attack. The Trauma Tore Them Apart.
On the day of the violent "Unite the Right" rally in Charlottesville, Virginia, Marcus Martin wore his red-and-white Jordans. Those shoes were special to Martin, not only because they happened to be rare, and he considers himself a sneaker-head—but because his fiancée at the time, Marissa Blair, had given them to him for Christmas.
Martin was wearing those shoes when he, Blair, and their friend Heather Heyer, joined up with counter protestors at an intersection in downtown Charlottesville, as neo-Nazis and white nationalists violently rallied in the nearby streets.
He was also wearing those shoes when he pushed Blair out of harms' way as a neo-Nazi accelerated a car into the crowd, sending bodies flying, leaving dozens injured and Heyer dead. The moment was immortalized in a Pulitzer-prize winning photo: Martin was captured mid-air. Blair was recording a video shortly before the car tore into the crowd, and it was still recording afterward: You can hear her screaming Martin's name as she looked for him in the wreckage.
When Martin got to the hospital later that day, he had a fractured ankle, a shattered lower leg, and just one red Jordan on—the other was still at that intersection, alongside twisted metal, discarded protest signs, and traces of blood.
Martin and Blair are now two of nine plaintiffs in a massive civil suit, Sines v. Kessler that seeks to hold the architects of the "Unite the Right" rally accountable for allegedly conspiring to incite racially motivated violence in Charlottesville. The plaintiffs are residents of the small college town, of varying ages and backgrounds, who say they've suffered long-term emotional and physical injuries as a result of the rally and the torch-lit march on the University of Virginia's campus the night before. The lawyers are seeking monetary damages from the organizers, with the goal of bankrupting their organizations and sending a clear warning to white supremacists across the U.S.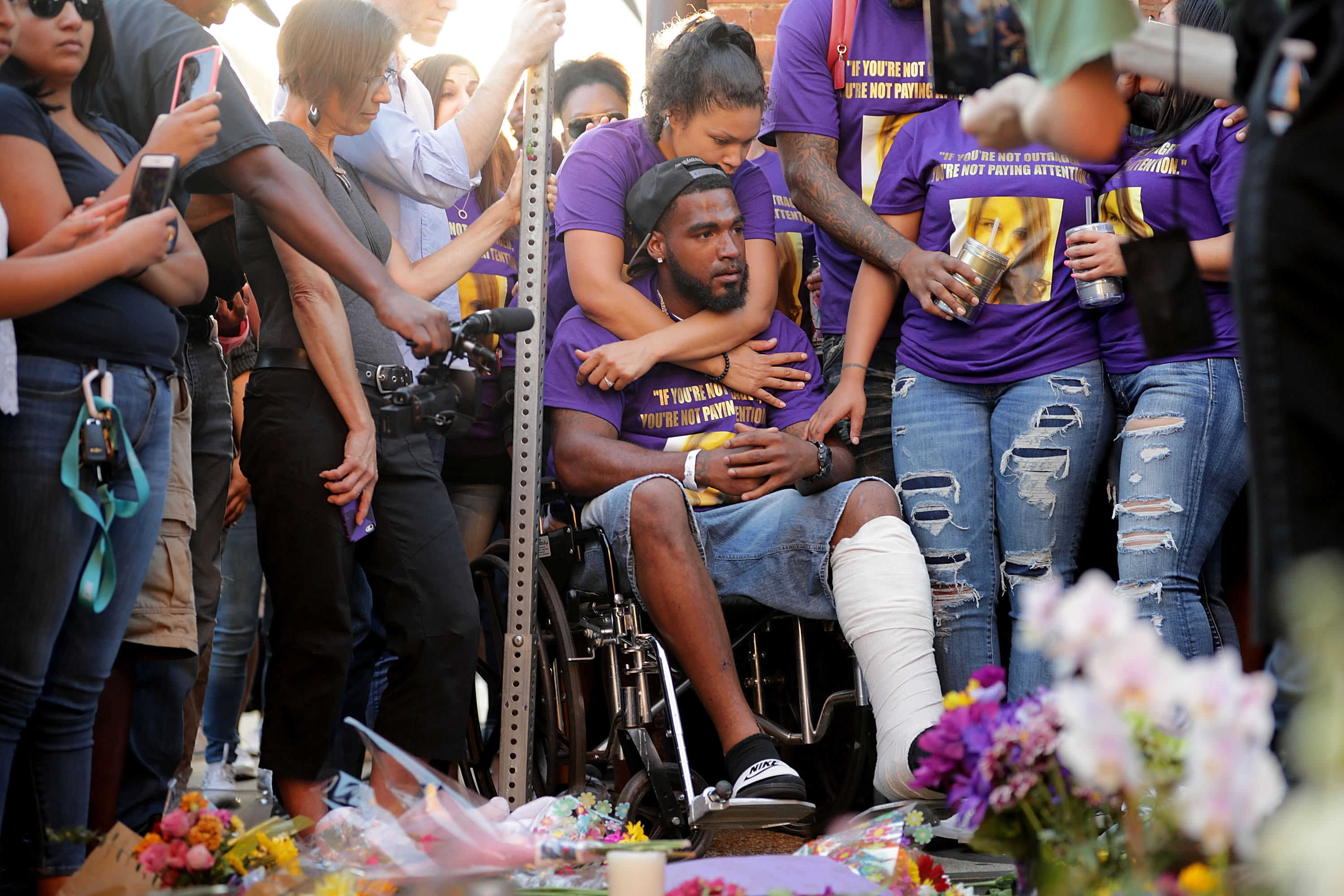 Marcus Martin, who was injured when a car plowed into a crowd of people protesting against the white supremacist Unite the Right rally, his wife Marissa Blair (behind with arms around Marcus) and friends visit the memorial built at the place where he was injured and where where 32-year-old Heather Heyer was killed in the same attack. (Photo by Chip Somodevilla/Getty Images)
This week, Martin and Blair testified separately in the case, which was brought by nonprofit Integrity First for America. And both of them blamed the psychological trauma of the violent rally as the reason their marriage eventually fell apart.
"The biggest thing we used to argue about was what we were going to eat that night," said Blair (who had just passed the bar to become a lawyer). "And then it became the little things he was upset about, or I was short-tempered with."
Both Blair and Martin, who were 28 and 27, respectively, at the time of the attack, have since been diagnosed with posttraumatic stress disorder. The symptoms associated with PTSD have been widely researched and often include depression, anger, emotional numbness, and aggression. Researchers have also shown how PTSD and its myriad of symptoms can be incredibly destructive for relationships.
When Blair took the stand on Monday, one of the plaintiff's lawyers, David Mills, asked her if she and Martin were still married.
"No," she replied. "We got a divorce."
"Do you attribute that to what happened on Aug. 12?" Mills asked.
"Yes," she said.
Martin, appearing in court in a grey blazer, a black sweater, neat facial hair, and a stud in his right earlobe, testified Wednesday about the events of the day in a low, steady voice, He also described the long-term effects of his physical injuries, which left him unable to participate in activities he used to love, like basketball and softball.
Then one of the plaintiff's lawyers, David Mills, asked Martin about the long-term psychological impacts. Martin said that he struggles to concentrate on simple tasks, experiences flashbacks, and also has had really bad anger management issues.
"People just didn't want to be around me, because of what it had done to me," Martin said. "It pushed one of the best things that ever happened to me out of my life."
"What was that?' Mills asked.
"Marissa," Martin said. At that point, he was crying.
Blair also became emotional during her testimony when she was asked to recount the moments after the 19-year-old neo-Nazi, who's now serving life in prison, rammed his car into the crowd of counterprotesters. She was screaming Martin's name, and couldn't stop recording the video she'd started prior to the attack, because her hands were shaking too much to use her phone.
Blair also choked up when she recalled finding Martin's baseball cap covered in blood on the ground—and being afraid to look at the ground for what she might see next. Then, she described the overwhelming relief when others in the crowd reunited her with Martin—and later, the unbelievable sorrow when she found out Heyer was dead.
"An officer came and took me into a room, and told me that Heather was the girl that died," Blair recalled. "I will never forget when he just kind of said, 'I'm sorry to tell you, that was your friend.' I was sitting in a chair and had to drop to my knees and I sobbed."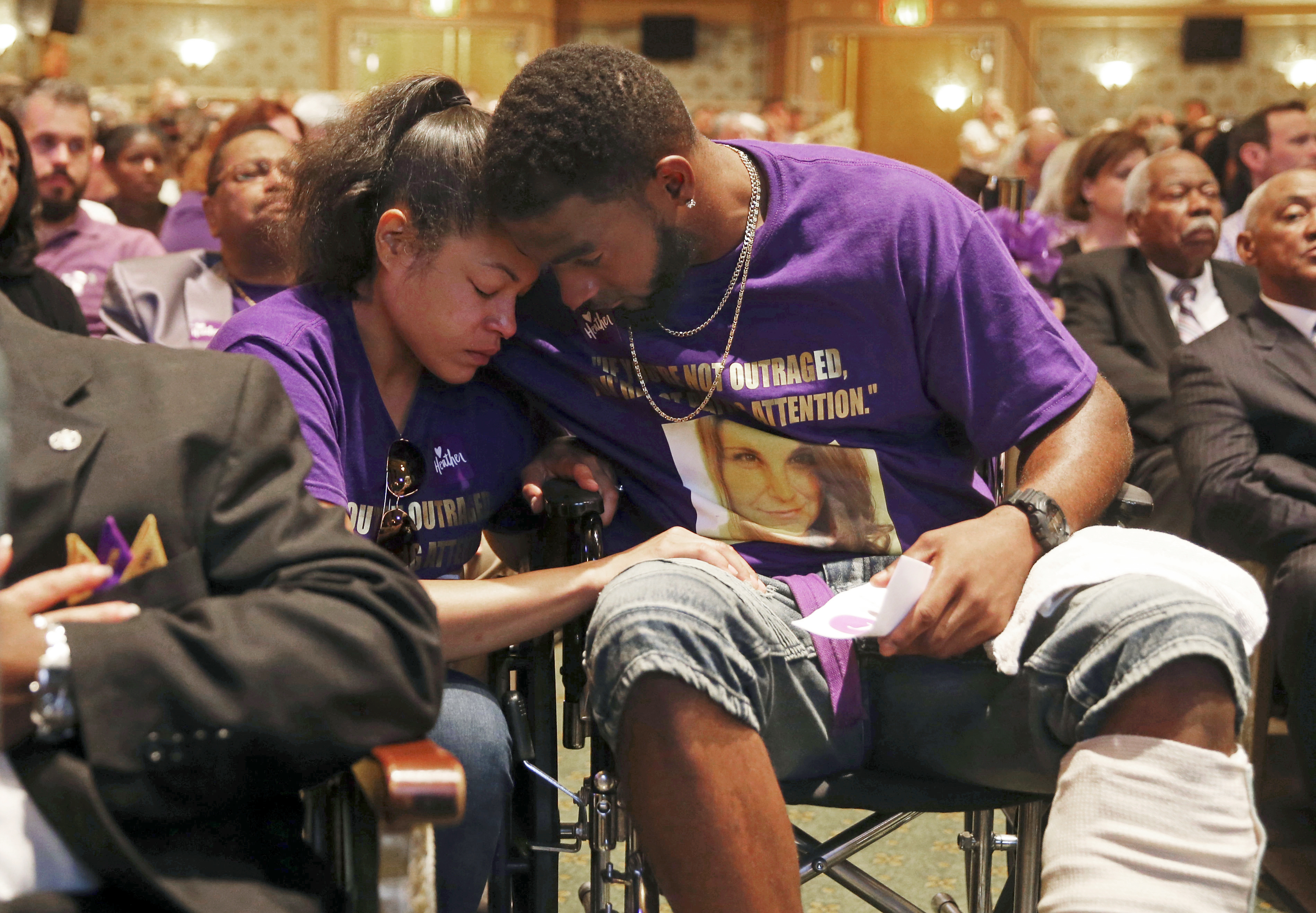 In this Aug. 16, 2017 file photo, Marcus Martin, right, hugs his fiancee Marissa Blair during a memorial for Heather Heyer at the Paramount Theater in Charlottesville, Virginia. (Andrew Shurtleff/The Daily Progress via AP, Pool, File)
Months after Unite the Right, Blair and Martin got married. At that point, Martin had been widely recognized for his heroism in saving Blair's life. Their love story and nuptials—which entailed bridesmaids in long purple gowns and an altar adorned with purple wisteria, all in honor of their good friend Heyer's favorite color—were featured in the New York Times' Wedding Section. The recording artist Major surprised the couple by performing live at their wedding, and Heyer's mother, Susan Bro, released a handful of butterflies at the altar.
Even then, and in that Times celebration of their resilience and love in spite of the horror they experienced together, they weren't sugar coating how difficult life had been since.
"Before Aug. 12, Marcus and I had had one argument," Blair told the newspaper. "After Aug. 12 we started having six, seven, eight arguments," she said. "It wasn't like us."
In that same interview, Martin gave an example of one argument they had, where he just "blew up" over the fact Blair had left an empty cookie box out after finishing its contents.
Blair had described in other interviews after the attack how she'd found herself shaking and crying uncontrollably. And Martin's injuries, which ultimately required surgery, caused him to lose his job as a landscaper temporarily. Plus, they were processing what happened on Aug. 12 in different ways.
"Usually in a relationship, when one person is sad, the other person helps to cheer them up and uplift them," said Blair this week. "But we were both dealing with a lot of trauma."
Blair said that prior to the attack, she was a "typically a happy person." That wasn't the case after.
"I was super depressed, I'm anxious, I still experience panic attacks," she said. And her relationship with Martin changed almost immediately. "He was really angry," she said. "I was more sad."
Eventually, Martin was diagnosed with a head injury, which explained some of the issues he was grappling with, like persistent headaches and feeling foggy. On Wednesday, lawyers showed jurors a text message he sent Blair about it in 2018. "Something isn't right, and I can feel it," he wrote.
"I thought it would just go away," he testified Wednesday. "I thought it was normal after something like that."
Lawyers also showed a text Martin sent to Blair in early 2018. "I know I have to get back to that happy place in my life," he wrote. "I was there for so long until Aug. 12 happened and it has really fucked me up rissa.'
"Do you still experience the effects of Aug. 12 in your life today," Mills asked Martin.
"Yes," Martin replied.
"Do you believe they'll ever go away?" asked Mills.
"No," Martin replied.
Mills said he had no further questions. Martin, in an apparent effort to regain his composure, rubbed his face with both hands, and breathed heavily.
#DmtDaily
DMT.NEWS
via https://www.DMT.NEWS
Tess Owen, Khareem Sudlow