QAnon Leader Ron Watkins Is Running for Congress and It's Not Going Great
When Ron Watkins, the QAnon facilitator-turned-MAGA influencer, announced he was running for Congress in Arizona last month, he told VICE News he was pretty confident about his chances.
"Mark my words: I am going to raise at least a million dollars and I'm going to win so that the people have a real voice in Washington, D.C.," Watkins said.
So, a month into his campaign, and with nine months left before the GOP primary, how much of that $1 million has Watkins raised?
A grand total of $0.00.
That's right, the man who helped QAnon move from a fringe online conspiracy to a mainstream movement that has infected Republican Party orthodoxy has not yet raised a single dollar in donations from his hundreds of thousands of followers, according to the Federal Election Commission's database.
The listing for Arizona's First Congressional District shows that while Watkins has yet to register a single donation, incumbent Democratic Rep. Tom O'Halleran has already reached the million-dollar mark, raising ​​$1,159,515.71 to date.
Since announcing his candidacy, Watkins has focused most of his energy on attacking O'Halleran, calling him the "dirtiest Democrat in the DC swamp" and even giving him the Trumpesque nickname of "Tom O'Hooligan."
But Watkins may be getting a little ahead of himself, given that he first has to win the Republican Party primary that's slated for Aug. 2 next year.
Of the three Republicans currently listed as challenging Watkins for that nomination, sitting Arizona State Rep. Walter Blackman has raised $475,481.07, former Navy Seal and Tucson businessman Eli Crane has raised $404,396.30, and John Moore, the current mayor of Williams, Arizona, has raised $30,497.88.
Watkins did not immediately respond to VICE News' questions about whether he's raised money but hasn't declared it yet, or whether he has simply received no donations.
Watkins does not have a campaign website, preferring to use his highly popular Telegram channel, where he has hundreds of thousands of followers, to push talking points and grievances about his opponents.
As well as talking about his Congressional campaign, Watkins continues to use his channel to push a wide variety of conspiracy theories, including QAnon, 2020 election fraud lies, and anti-vaccine narratives.
But one open-source researcher who's been tracking Watkins' Telegram channel noted the number of people subscribed to his channels is falling.
According to the data, Watkins' subscriber base has been steadily declining in recent weeks, suggesting that his sway over his conspiracy-minded followers may be waning.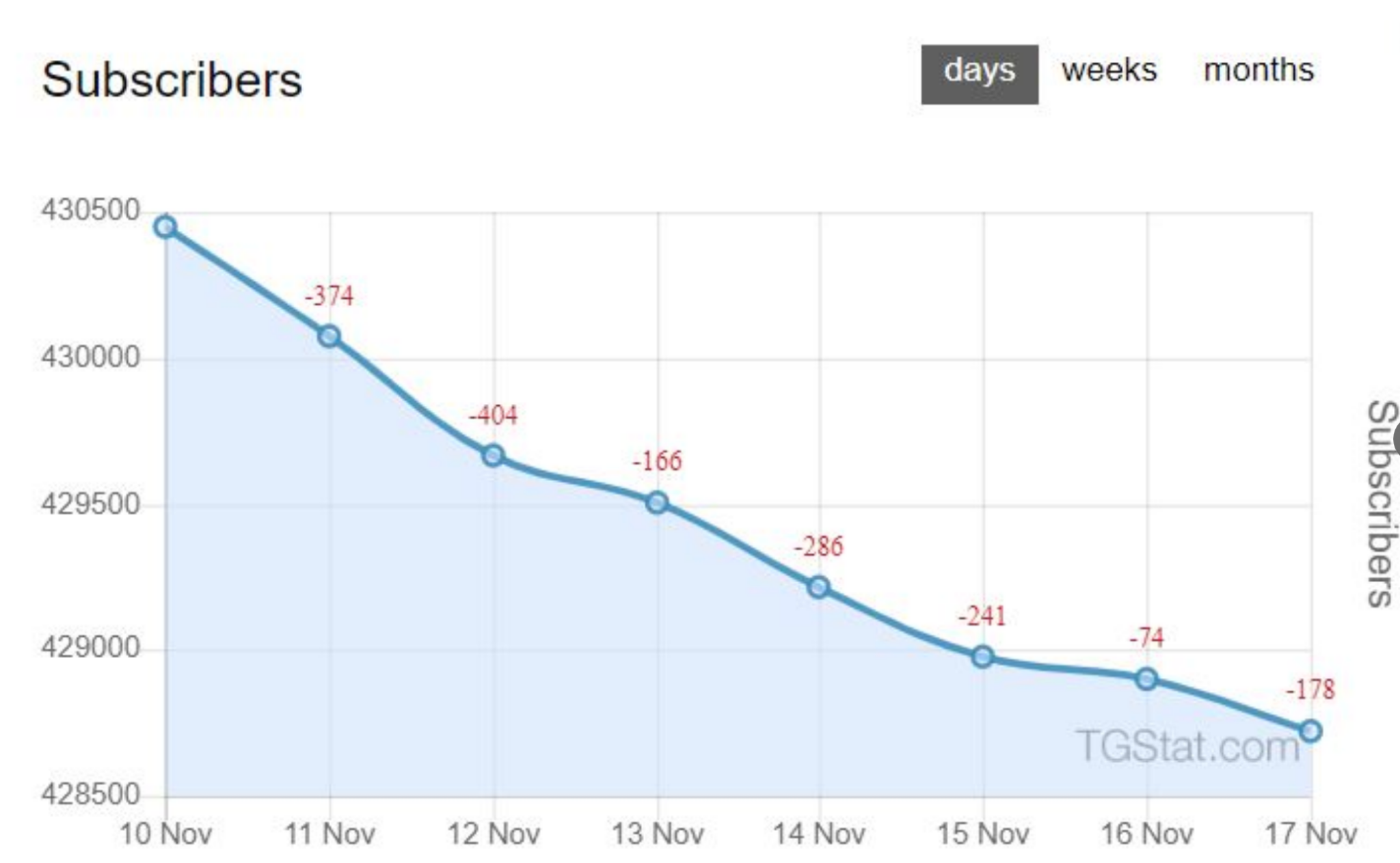 A graph showing that Ron Watkins' Telegram channel subscriber numbers have been steadily declining in recent weeks. (Twitter/@1annelove)
Of course, Watkins may have other things on his mind at this time, after the FBI this week raided the home of the Colorado GOP election official accused of leaking sensitive voter information to him earlier this year.
Want the best of VICE News straight to your inbox? Sign up here.
#DmtDaily
News
via https://www.DMT.NEWS
David Gilbert, Khareem Sudlow