The Best Men's Hairstyles of 2019 (So Far)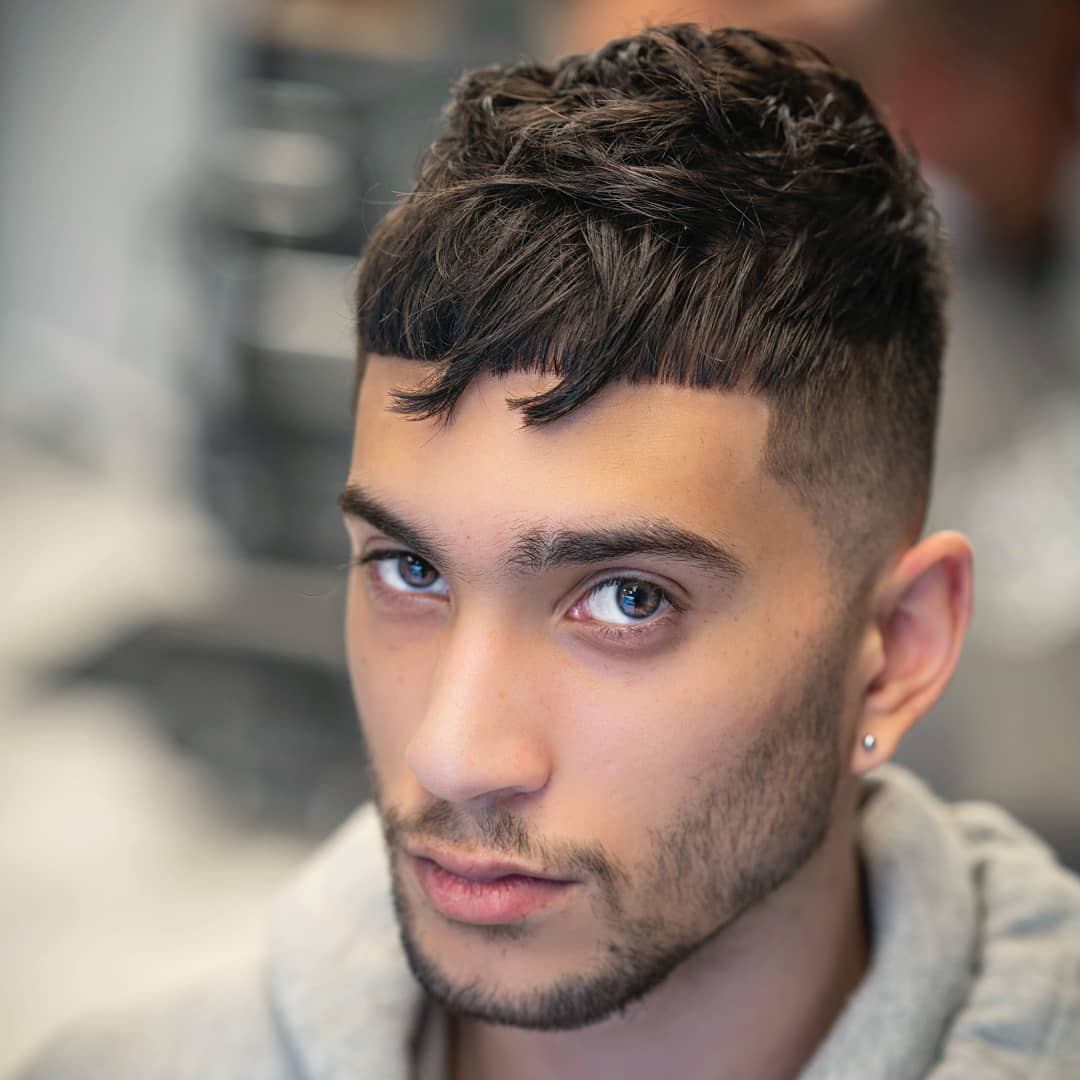 The Best Men's Hairstyles of 2019 (So Far)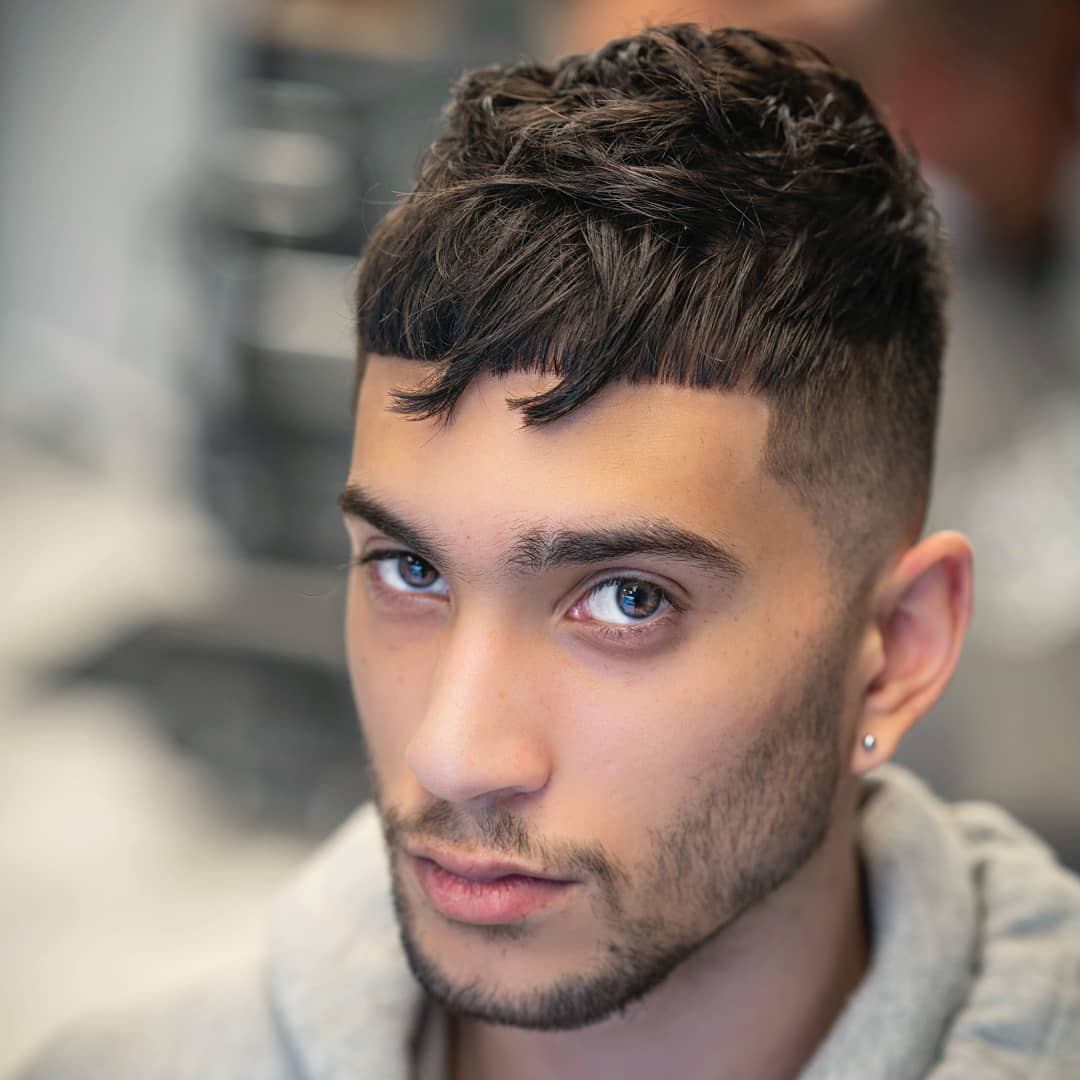 Here are 20 of the coolest men's hairstyles we've seen in 2019 so far. These looks include the ever popular crop, plenty of medium hairstyles, and a variety of shaved lines.
These cool looks range from classic to bold, simple to complex, and short to medium length. Talk to your barber about which styles work for your hair type and face shape. And feel free to mix and match pieces of multiple looks to create your own unique style.
Crop Haircuts
1. The Textured Crop
The popular crop haircut is only getting even more popular this year. This classic looks contrasts faded sides with textured styling on top.
2. Crop with Piecey Fringe
Crop haircuts are also getting more inventive, like this toothy fringe. Use a product like Victory Crown Barber Matte Pomade to keep those character pieces in place.
3. Blunt Crop
Another way to wear the crop is with straight across bangs below textured spikes.
4. Messy Hairstyles for Men
This cool look combines several of the top men's hair trends of 2019. This crop fade is slightly longer than a buzz cut, styled with cool messy texture, and enhanced by platinum blonde color.
5. Men's Haircuts with Shaved Lines
Haircuts designs with lines are a huge trend with all kinds of men's haircuts right now. This isn't the latest version but it is one of the most popular.
6. Spiky Hairstyles for Men
Crop haircuts can be cut short or long as well as styled down into fringe or up into messy spikes. This cool look gets vertical into modern spikes.
Medium Hairstyles for Men
7. Modern Pompadour
This fresh take on the pompadour literally adds flow to the classic shape.
8. Short Sides, Long Top Haircut for Wavy Hair
Another way to add movement and flow is to let wavy hair do its thing. Short sides balance out these surfer waves.
9. Hairstyles for Men with Fine Hair
Another modern pompadour, this version beefs up fine hair with plenty of volume and some texture. The arc of the drop fade mirrors the line of the pomp.
10. Long Crop
This long crop with fringe features some layering instead of a blunt line. A drop fade updates the mod-inspired look.
11. Burst Fade Mohawk
The burst fade mohawk is a cool and classic look. This longer version with a shock of platinum on one side is a fresh update.
12. Curly Mop Top
For wavy, curly, and black hair, it's more important to work with your hair type than follow the trends. This cool look does both with a flattering shape for curls that also features plenty of on point texture and flow.
13. Cool Hairstyles for Men
This white hair is cool enough on its own but this Wolverine-inspired look is next level.
14. Medium Hairstyles for Men
A fresh look from American Crew, this medium length men's hairstyle couldn't be cooler. The style just looks better as you touch it throughout the day.
Haircuts with Lines
15. Haircut Designs: Lines
There are so many ways to wear men's haircuts with lines – short or long, front or back, one or many. This cool look keeps it simple with an angled line over the temple with a thick buzz cut, line up, fade haircut.
16. Fade Haircut with Lines
This toothed hair design in the middle of a mid fade is subtle and bold at the same time. The look is not for everybody but it might be for you.
17. Diagonal Slash
Many hair designs are just on one side but this cool look keeps going.
18. New Hairstyles for Men
Braid Barbers is known for its fashion-forward cuts and this is a great example. Bold spikes are echoed in the slashes that go in every direction.
19. Hard Part
A shaved part is a classic and cool way to add a defined line to any haircut.
20. Neckline Slash
Neckline hair designs can be as bold or simple as you like. This cool look combines a classic rounded neckline with a modern diagonal slash and quick taper.
http://bit.ly/2OuOT17